Kelowna is one of the most beautiful places in British Columbia. It's no wonder why so many residents go here for a quick vacation or just to unwind. If you are travelling to this beautiful city and would like to know more about the Kelowna cannabis laws and regulations, you're in the right place. 
This article will explore all that you need to know before stepping foot into a Kelowna dispensary or buying weed online.
Is Weed Legal in Kelowna, British Columbia, Canada?
The BC Government legalized both recreational and medicinal cannabis use as of October 17, 2018. Anyone can buy or smoke weed without having a medical marijuana card or being a medical marijuana patient. This is great news for this already pot-friendly city, as now it's much easier to find pot and other cannabis-related products! 
Who Can Buy Weed from a Dispensary in Kelowna?
B.C. Government's Cannabis Control and Licensing Act states that you need to be at least 19 years of age to purchase marijuana. That's the same with alcohol and tobacco. This age limit applies to anyone in BC, even to those who are just visiting. 
So, if you're 19 years of age and older and visiting Kelowna, you can purchase weed! You can even buy weed online! 
How Much Cannabis Can I Buy in Kelowna?
If you were to walk into a local dispensary, you can buy up to 30 grams of recreational marijuana. There are some exceptions when it comes to medical marijuana. 
However, if you purchase weed online, there aren't that many restrictions and you can get away with purchasing in bulk. This could really help you save some money. For example, check out our tailor-made quarter pound mix and match. You can get many AAA weed strains and AAAA craft cannabis strains for about $115 an ounce, depending on the selection that's available at the time! 
Check Out Some of Our Products
How Much Cannabis Can I Have on Me in Kelowna?
Within British Columbia, you are legally allowed to buy and carry 30 grams of marijuana in a public space. It doesn't matter what type of cannabis strains that you have. The limit is still the same — 30 grams. You can have 14 grams of sativa cannabis, like Red Congo, and 14 grams of indica weed, like Pink Kush, and you'd still be in the clear even after leaving a Kelowna dispensary. 
With that said, it is common courtesy to store your marijuana in a sealed bag, so it doesn't smell. The good news is that we package and seal all of our products for you, so you don't have to worry about this! Your package will arrive odor-free in the mail! If you don't want to make a trek out to a local Kelowna dispensary, ordering weed online is the next best thing (some would argue that it's even more convenient). 
Where Can I Smoke Weed in Kelowna, BC?
According to the City of Kelowna, the same bylaws that apply to smoking cigarettes or vaping in public areas will also apply to cannabis consumption. It is legal to smoke cannabis on private properties that allow smoking, so you can smoke in your own home. You can also smoke in some public areas where it's legal to smoke tobacco, so tobacco-designated smoking stops.
You cannot, however, smoke weed in areas that you cannot smoke cigs in. For example, you cannot smoke in parks, public spaces and within 6 meters of doorways. The last one is a provincial regulation. This means that you can't smoke marijuana at bus stops and at sidewalk patios.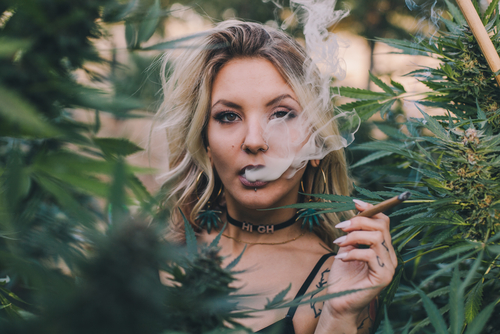 You also cannot smoke marijuana in areas where children commonly gather, such as skate parks, playgrounds and sports fields. You cannot use cannabis on school properties.
If you're travelling into Kelowna, there are designated smoking areas at the Kelowna International Airport. 
Can I Smoke Cannabis at a Residential Home in Kelowna?
That all depends on several factors, like whether you own the property (in which case, yes!) or whether you rent. Based on the Residential Tenancy Act and Manufactured Home Park Tenancy Act, any place that prohibits tobacco smoking under existing leases can also prohibit recreational cannabis smoking. The only exception is when it comes to federally authorized medical marijuana. You can smoke that under any lease. 
If you're negotiating a new lease and would like to smoke recreational marijuana there, you'll need to make sure that the terms of the lease allows that.
Other Things to Keep in Mind
There are some other cannabis laws and regulations that you need to keep in mind when smoking weed in Kelowna. Let's take a look at some of them below: 
Never smoke weed and drive. Not only is that dangerous to you, but it's dangerous to other people around you.

Weed impairs cognitive abilities needed to drive

, so no, you won't be just fine! 

Keep marijuana away from children. Make sure that you do everyone a common courtesy and avoid smoking in front of children.
Know the marijuana bylaws for wherever you're traveling to. If you're traveling out of Kelowna, make sure that you're familiar with the bylaws and regulations elsewhere. For example, if you're

going to Vancouver

, you can carry 30 grams of cannabis with you. 
The key is to smoke responsibly. Be a responsible marijuana smoker to show the community that cannabis is a great medicine that can do great things! 
Recommended Strains and Deals from CannabudPost
Are you thinking of buying weed online instead of making a trek to the nearest Kelowna dispensary? If so, we have quite a large selection of cannabis! You can purchase any quantity from us, and our bulk weed pricing is very competitive. This is one of the best places that you can buy a quarter pound of weed from. 
If you have a friend who would like to split an order with you, ordering a quarter pound of weed is perhaps one of the cheapest things that you can do. You'll be getting high quality weed at budget bud price points! Let's take a look at some of our strains and deals below. 
Buy Weed Online from Cannabudpost for the Best BC Bud
CannabudPost is easily one of Vancouver's best online dispensaries. We make buying weed online as simple and easy as possible. You can find the indica strains, hybrid cannabis strains and sativa strains that you need without taking one step out of your door (which is great news for some people nowadays!). 
All you have to do is make an account with us. We are one of the many online dispensaries, no card needed in BC. This means that you won't have to worry about any account approvals at all. Once you make an account, you'll be good to go! 
Once you've placed an order, send us an e-transfer with the amount that you've purchased and we'll get the package shipped out to you either within the same day or on the next business day (we do not ship packages on weekends). You'll usually get your package within 2 business days if you live in Kelowna. Shipping is also free on all orders over $99! 
So, what are you looking for? Get some of the highest quality buds from this Kelowna dispensary today! You won't regret it!