One of the best ways to smoke cannabis discreetly is to use a THC cart. There are THC carts and black market THC carts. Black market THC carts are not from your local medical marijuana dispensary. They were recently on the news for being a possible culprit for respiratory illnesses and lung injury, so many people may feel that they are unsafe.
But, are black market THC carts really unsafe? And, are there any benefits in purchasing vape products online or looking into adding some dank vapes into your checkout cart when you buy weed online? Let's explore this issue below.
What Are Some Benefits of Purchasing Black Market THC Carts?
First things first, one of the main reasons why so many people are looking at purchasing black market vape carts is because of the price. If we take a look at the Ontario Cannabis Store (OCS), you'll find that you'd be paying about $55 per 1 gram of distillate. These distillate carts contain as little as 70% THC and up to a proclaimed 86%. 
That's a horrible deal. An average user will finish this cart in 2 to 3 days. If you plan on using these carts instead of medical marijuana, you'd need a budget of about $825. That's simply not affordable for those who are using weed as medicine and rely on medical cannabis regularly. 
The next reason why many people are interested in purchasing vape pens from the illicit market is because of quality. At 70% THC, the distillate likely contains a lot of impurities. The company also probably uses some type of filler to make the black market THC vape cartridges less viscous and more runny. 
Last but not least, there are limited flavour options at your local dispensary. They might only have several flavours available. If you choose to buy  cannabis products online, you have access to a much larger inventory. 
What to Look For When Purchasing Vape Pens Online
Although there are many benefits of purchasing dank vapes online, many people are hesitant to purchase cannabis products from an online dispensary because they don't want to end up with a poor product that might give them lung illness.
So, how do you get a quality product while ensuring that you won't get a single vaping-related lung injury? Let's take a look at some of the things that you should look for. 
Always do your research before buying weed online or any cannabis-related products. You want to make sure that you're buying from a company that's been around for some time and has a happy customer base. You can do this by searching up 'CannabudPost reviews' online to see what other people have said about us. 
Although online reviews on the dispensary's site can provide you with some information on the product, it's important to note that these reviews can be doctored. Here, at CannabudPost, we pride ourselves in offering complete transparency, so this isn't something that we do. 
But if you don't know us? How would you know?! That's why we highly encourage that you check out our reviews online to see what other people have said. 
The truth of the matter is that most online dispensaries have strict grading requirements (perhaps more so than the government which requires that weed be radiated before being put on shelves). Here, at CannabudPost, all of our vape pens — or the distillate at least — have lab reports. 
For example, our Honey Extracts vape pens contain distillate that come back with 93% THC.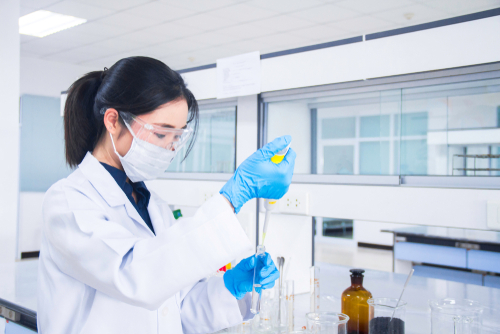 About 8% of plant-based terpenes are added back to the distillate for flavour, which means that the vape pens have about 85.56% THC. 
That's quite high in comparison to the 70% THC that you'd see at some local dispensaries. Most importantly, these carts are priced at $38. Compared to $55, that's 30% cheaper! 
These vape pens will also offer a more potent high. 
There are no fillers added to the thc oil, so you won't have to worry about vitamin e oil or vitamin e acetate. These ingredients are responsible for the lung injuries that we hear about on the news!
If you see a popular brand that you've already tried elsewhere or that you've heard a lot about, then you're most likely going to be in good hands. Many vape companies have built up a good reputation and will not jeopardize it by adding any type of fillers. They're going to make sure that you have a quality product that comes from high-quality weed and not budget buds. 
#4. The Viscosity of the Distillate
The distillate should not be too runny at all. Although runny distillate is easy to smoke because it shouldn't move around too much, viscous distillate is higher in quality. 
If you can, do the bubble test. Pens that pass the bubble test (which is when the bubble doesn't move much or easily when you tilt the cart) tend to be higher in quality. These types of THC carts are harder to work with because you might need to use a hair dryer or some warm water to make the distillate runnier.  
With that note, if it's runny, it doesn't mean that the vape pens are poor quality. The manufacturer may have simply added some type of base liquid to make it easier to work with. This will, however, slightly reduce the potency of the marijuana cartridges.
#5. The Color of the Distillate
The color doesn't always mean anything, but you want to look for distillate vape pens that are clear and free of impurities. You also want to look for distillate that's a nice yellow or amber color. 
Anything that's green in it has impurities. You also want to avoid distillate that's dark. In general, a clear gold or golden-yellow color is what you should look for. 
Types of Cannabis Vape Pens
When purchasing vape pens online, you have a lot more options to choose from. The OCS mainly offers distillate, but this isn't the only option. Distillate is essentially an extract of delta-8 or delta-9. 
When it comes to vape carts, most brands will use delta-9. It's a cannabinoid that comes from weed. It's responsible for the high feeling that you get when you smoke cannabis. 
Distillate offers a one-dimensional high. It doesn't contain many other cannabinoids, so you're not likely to get any entourage effect from this type of cannabis extract at all. 
Other than distillate, two other popular options include:
Honey oil, which is basically an extract of all of the cannabinoids that come from cannabis. This type of cannabis concentrate will give you the full profile of the marijuana. It's typically a bit cheaper than live resin, which we talk about below. The potency is not as strong as distillate, but it gives you the entourage effect because you're experiencing the true weed profile. You get a more well-rounded high. .

Live resin, which is an extract made from squishing flash frozen cannabis. This type of vape pen is usually a bit more expensive than distillate carts, but the flavour is much more potent. Like honey oil, you also get a very well-rounded high with this type of vape cart.
There are many other types of vape pens that are coming up in the market. For example, rosin pens are becoming popular as well.
CannabudPost Has a Large Selection of Vape Pens
If you're looking for vape pens, we have what you're looking for. We not only carry a lot of popular brands on the market, but we also offer great prices on a selection of products. 
Our 3 carts for $110 bundle is a huge hit because of its affordability. You're essentially getting each pen for $36.66. This price also includes shipping (we offer free XpressPost shipping on all orders over $99) and tax. 
If you have any questions about the pens that we carry, feel free to reach out to our customer representatives. They're available 24 hours a day, but please give them at least 24 hours to respond due to the large volume of emails that we receive on a daily basis.